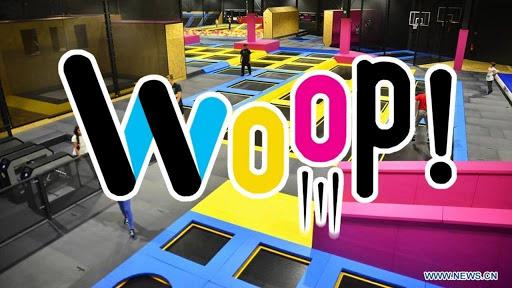 3.500 square meters area, 100 + trampolines, and countless unforgettable adventures!
WOOP! in the Slovenian capital, Ljubljana, is the biggest and coolest (if we can say so) trampoline park of its kind. It holds 3500 square meters of fun-space, and it's only a short jump from the shopping wonderland BTC. WOOP! Trampoline park is for adults, adolescents, and children from 3 years of age.
WOOP! ATTRACTIONS
Inside you'll find a unique free jump area, gaming systems, airbag, foam pits, dodgeball, and many more activities to catapult you out of your routine. Get in shape by joining the most entertaining and functional fitness classes or learn a couple of tricks at our WOOP! Like PRO workshops, which are scheduled throughout the week.
Prior to visiting the park, pre-registration is required on the Trampoline Park WOOP website! Registrate here.
HOME OF THE DUNKIN DEVILS
The trampoline park is also home to the world-renowned Dunking Devils acrobatic group, which transfers its experience and knowledge through workshops and courses to younger generations. Check out their amazing stunts on Solkan bridge, 100 feet above the river Soča.
WOOP! KARTING
The newest addition to the WOOP! is karting. Challenge your friends and prove yourself on the craziest Go-kart track in Europe!
A state-of-the-art multi-level go-kart track in Europe, full of special effects, fast turns and adrenaline racing maneuvers. A superior indoor go-kart with electric drive, TOP speeds up to 60 km / h and a special turbo accelerator for tactical overtaking. Absolutely safe rampage provided for young people as young as 8, as well as families and experienced drivers.
Compete with your friends
Grand Prix races with professionally organized training, qualifications, racing honors, and glory races and awards ceremonies. WOOP! The league promises to fans and experienced racers the ultimate racing experience in the form of a battle for 1st place on the most repulsed racing ladder. Thorough monitoring of results and fair play is made possible by the RaceFacer app, which you can WOOP! drivers download for free on their smartphones.
Check out the WOOP! Karting, here.
WOOP! VR CHALLENGE
Try one of the most exciting experiences of the moment! Wear your virtual glasses and enter another world!
Virtual Reality (VR) is an extremely in-depth experience of experiencing another space, time and environment. You experience this with VR glasses. The whole spectrum of events is 360 degrees, which means that the virtual world is literally all around you wherever you look.
Get the full look into VR Challenge at WOOP!, here.
WOOP! BAR
Indulge after a day full of jumping or karting with pancakes, panini's or burgers!
WOOP! SHOP
Grab your #woopnation swag and give yourself a freakish makeover before you start jumping at WOOP! Purchase gift cards for trampoline park, WOOP! merch or karting, here.
If you're looking for a place to host an unforgettable birthday party – or you just want to hang with your friends – then WOOP! is the place to.